High Volume Pump Trailer
The flood response trailer has the capability to pump 4000L litres per minute. This is regularly used during severe weather events all around the state, and has even been deployed interstate to assist with takings. This trailer has also been used to assist with refilling fire fighting aircraft and drafting water in fire emergencies.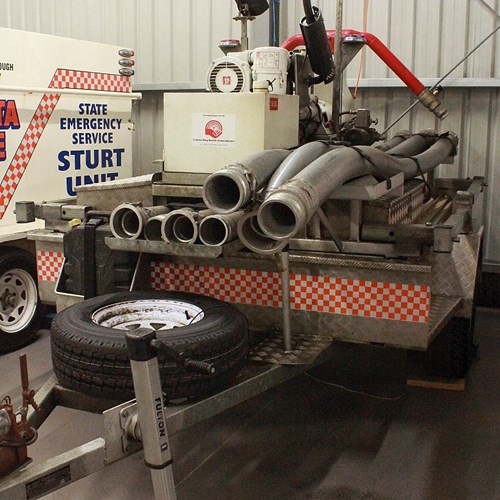 Airshelta Response Trailer
Aireshelta is an inflatable building that can be erected by a few trained volunteers in less than five minutes. It is made from reinforced woven nylon fabric coated in PVC. It is an aerodynamic-shaped structure, designed to withstand high winds. Consisting of an air-filled double skin making them warm in winter, cool in summer, the unit has two single end walls with built-in doors that can be rolled up out of the way.
It has been used at many incidents including searches, murder scenes, other types of crime scenes, bushfires, and as a triage centre. Aireshelta provides victims, Police, medical retrieval teams, rescue and other emergency service teams, instant protection, privacy and a degree of physical comfort when not otherwise available.
Sandbagging Trailer
Sandbags will not stop the water completely but can reduce the amount of water entering your home. To assist with the labour intensive task, Sturt SES have a sandbagging trailer which is used during low level flooding. Sandbags placed in the right locations around assets can reduce the impact of flooding.
This sandbagging machine can fill a 15kg sandbag in six to eight seconds, producing up to 500 in an hour.